The beast is back...
The beast is Universal!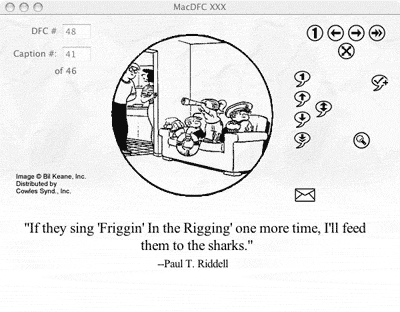 MacDFC XXX 0.9.3 (17 MB .ZIP file).
Universal Binary (OS X Intel/PPC) version only.
MacDFC XXX 0.9.2 (25 MB .DMG file).
Contains both Universal Binary (OS X Intel/PPC) and Carbon (OS 9/X PPC) versions.
We also have a Classic-only Stuffit file (14 MB .SIT) for OS 9 users who don't need the UB or Carbon versions and can't open DMG files.
If you have a really old Mac (and don't mind that orange background that Spinn was using at the time) you may have to rely on the old MacDFC 1.1.6 (8 MB .SIT). Of course, we still have the original Free-Floating DFC Archive (HTML files, 8 MB) for all you Windows/Linux/VIC-20 users out there.
Also, we have a number of DFC historical documents and meta-sites on the right side there, if you're interested.
BEWARE: broken links, outdated info, and messed-up formatting lurk within.